About
Bike Culture, or simply BC to their regular customers, is owned by Rob Smail and Mike Metz. What sets the shop apart from others is that at BC, the workshop is the shop itself. As soon as you step inside, you'll notice the open-plan workshop situated at the front of the store. They gladly offer their expertise, working on and providing advice for bikes of all types and riders of all skill levels.
You won't find a clutter of off-the-rack bikes crowding the shop. Instead, their focus lies in building custom bikes that cater to individual needs and riding styles. They hold high-quality frames and select complete bikes in-store, with the option to access others depending on customer preferences.
With their combined decades of experience in the industry, Mike and Rob take personal ownership of the shop, handling all workshop servicing and builds themselves. This is another aspect that sets them apart—when your bike is being worked on, it's either Mike or Rob lending their expertise. No junior mechanics or inexperienced technicians will touch your pride and joy.
Equipped with specialized tools and knowledge, BC offers accredited suspension servicing and excels in diagnostics and hardware/software work for the evolving technology in electronic components and power units.
Both Rob and Mike are passionate about riding bikes and take every chance they get to hit the trails and gravel roads. Feel free to check out their respective bio pages. Their extensive riding experience allows them ample opportunity to test out new products and gear, giving them the ability to recommend tried-and-tested products that work best for you.
BC offers a relaxed environment. While they work in the workshop, don't hesitate to come over and strike up a conversation. They are more than willing to share their advice and knowledge accumulated over decades of experience, both as riders and mechanics.
And as Rob says, "We're not in the bike game to make handfuls of cash and buy speedboats, we're here because we love bikes and the incredible journeys they can take you on!"
CONTACT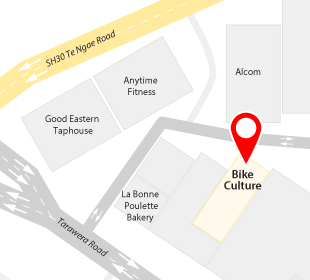 6c Tarawera Road. Rotorua
Ph: (07) 343 9372
Email: bikeculture@outlook.co.nz
Shop hours
Monday: Closed
Tuesday: 8am - 5pm
Wednesday: 8am - 5pm
Thursday: 8am - 5pm
Friday: 8am - 5pm
Saturday, Sunday: Closed.
(We will be off on an adventure with our bikes)
We recommend you call or email in advance to book in for the workshop.