Good working suspension is crucial to bike stability, grip and comfort. With use the seals wear, fluids break down and the internals get contaminated which reduces the performance significantly. To keep your high-end machine working as well as it should, we recommend a basic service every 50 hours or 6 months, and a full rebuild every 100 hours or 12 months whichever comes first. These guidelines work out for an average rider doing one 2 hr ride a week, most of our customers will do 3 times this much!
Our workshop is fully set up for complete rebuilds of front and rear suspension of all major brands, including all cartridge dampers. Our Andreani Vacuum pump is one of only a handful in NZ bike shops and delivers a much better result than hand bleeding. That combined with carefully selected high quality lubricants and damping fluids means in most cases your suspension will come up better than the factory build! We also offer a range of upgrades and tuning options, so if you are looking for more from your suspension, come and have a chat.
Pricing as shown is for the most common service jobs. Many other models and brands are available, prices are available on enquiry
---
Forks - Rockshox and Fox
Lower Leg Service $120
Full Service from $180 / $220
---
Rockshox Rear Shocks
AIR SEAL SERVICES
Monarch / Monarch Plus / Deluxe $140
Super Deluxe $165
FULL SERVICES
Monarch / Monarch Plus / Deluxe $245
Super Deluxe $265
Coil Shocks $220
---
FOX REAR SHOX
AIR SEAL SERVICES
CTD / DPS / RP / Float X '21 / DPX2 $140
Float X '22+ $160
FULL SERVICES
Inline shocks $245
Piggy Back shocks $265
Float X2 all models $285
Coil Shocks $220
---
SEATPOSTS
Reverb full bleed, new IFP / oil $155
Reverb full rebuild $280
KS clean and lube, new bushings $120
KS full service, new cartridge $190
Bike Yoke clean and lube $120
Bike Yoke full service $190
---
Pricing current at time of publication. Please give us a call or email to check current pricing and availability. Or better still, call in to the shop to see for yourself!
CONTACT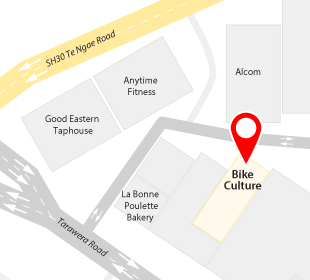 6c Tarawera Road. Rotorua
Ph: (07) 343 9372
Email: bikeculture@outlook.co.nz
Shop hours
Monday: Closed
Tuesday: 8am - 5pm
Wednesday: 8am - 5pm
Thursday: 8am - 5pm
Friday: 8am - 5pm
Saturday, Sunday: Closed.
(We will be off on an adventure with our bikes)
We recommend you call or email in advance to book in for the workshop.