What goes up, loves coming down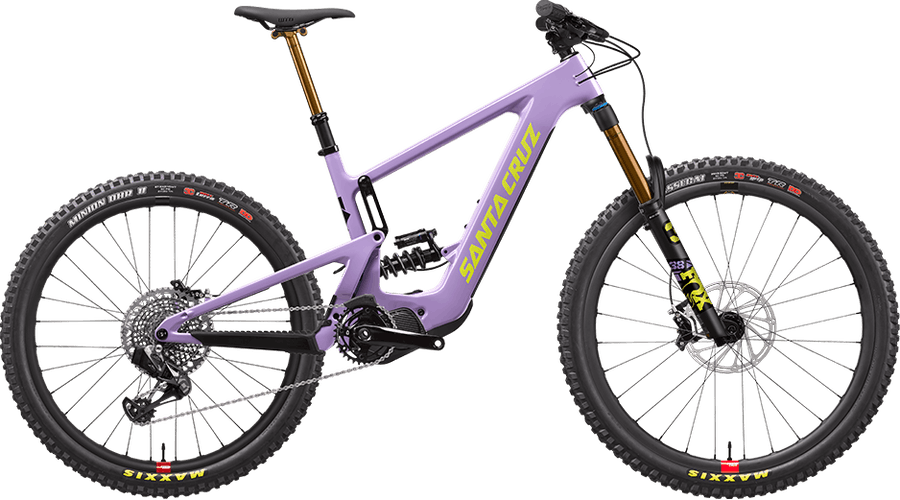 The Bullit is an electric mountain bike designed for tackling the steepest and deepest of trails in both directions. Imagine the kinds of rooty, rocky, horror fests usually reserved for Santa Cruz's biggest hitting bikes like the Nomad and Megatower. Then imagine what lies beyond that.
Where the Heckler's priority is agility and playful handling, the Bullit takes a more no limits approach. 170mm travel, a 38mm fork and DoubleDown tires reflect the smashability of this platform. This is a bike for riders who seek V10 level terrain that's out of range of any chairlift or shuttle road.
It was actually the Santa Cruz Syndicate team's success on their mixed wheel DH race bikes that made us consider the same format for the Bullit. Santa Cruz learned from them that mixed wheels provide the confidence at speed of a 29er with the more spritely handling characteristics and maneuverability of a 27.5-inch rear wheel. And for an e-bike, it also means Santa Cruz can dictate exactly how long (or short) Santa Cruz want to make the chainstays to balance climbing traction and handling. The added butt clearance on super steep stuff is just another bonus.
The biggest trails take a bigger commitment to reach them. Thankfully Shimano's commitment to the STEPS EP8 motor means Santa Cruz have a lighter, more powerful (85nm), more compact and more efficient way of reaching them. The EP8 is also tuned to give more power in Trail mode without affecting range. So paired with Shimano's biggest 630wh battery it ensures the Bullit is fully equipped for long, tough climbs to the longest, toughest descents.
Wheel Size: MX
Front Travel: 170mm
Rear Travel: 170mm
---
Bullit MX CC E-7000 R Kit, RockShox SDS, RochShox Zeb 170. $14,450
Bullit MX CC EP800, X01 RSV Kit, RockShox SDU or SDU Coil, Fox 38 Float Factory 170. $19,990
If you're after a Santa Cruz build kit that isn't shown, contact us for pricing and availability. Here at Bike Culture, we can also completely customise the build for you.
---
Pricing current at time of publication. Please give us a call or email to check current pricing and availability. Or better still, call in to the shop to see for yourself!