Mike Metz
Mike's love for cycling began like many Kiwi kids, and he never looked back. He started racing BMX at the age of 13 and made the transition to mountain biking in 1994 when he entered (and won) his first race—the Bay Champs Downhill. He developed a passion for the diverse terrain, ever-changing tracks, and especially the technical challenges posed by roots, rocks, and technical challenges.
Throughout his racing career, Mike has achieved numerous wins and highlights, securing multiple titles in Cross Country, Downhill, Dual Slalom, and Enduro at both the national elite level and within age groups. He was also selected and raced on the NZ team at World Championship level in DH .
In recent times, Mike has delved into multi-day bikepacking missions and done many epic day-rides on his gravel bike. For most riders, a day trip from Rotorua to Auckland utilising as many cycle trails and pathways as possible would be a major challenge. For Mike, it's just a typical Monday. He's still doing some racing though, most recently winning his age category at the Whaka Miler and placing fifth overall, showing up a lot of much younger racers.
In addition to his racing experience, Mike has extensive experience with guiding mountain bike trips in Colorado and Utah with Singletrack Colorado. This season, he finds himself in the States once again for a two-week guiding contract, following that up with competing at the Breck Epic race.

Mike on one of his trips as a guide with Singletrack Colorado - manualling through the petrified sand dunes of Moab's slickrock trail.
Having honed his skills and deepened his understanding of the craft through years of working in bike shops since leaving school, Mike's life revolves around bicycles. For him, Bike Culture is more than just owning a bike shop—it represents a complete and dedicated lifestyle. His passion for various aspects of cycling shines through, as does his extensive technical knowledge and skillset.
CONTACT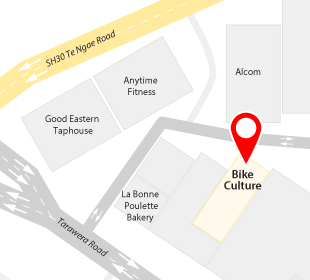 6c Tarawera Road. Rotorua
Ph: (07) 343 9372
Email: bikeculture@outlook.co.nz
Shop hours
Monday: Closed
Tuesday: 8am - 5pm
Wednesday: 8am - 5pm
Thursday: 8am - 5pm
Friday: 8am - 5pm
Saturday, Sunday: Closed.
(We will be off on an adventure with our bikes)
We recommend you call or email in advance to book in for the workshop.